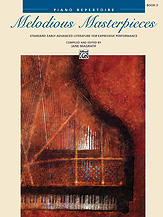 Melodious Masterpieces Book 3 Piano
Manufacturer Part #:
  AL6671
FREE SHIPPING ON ALL PRINT MUSIC & GIFT CARDS!!!
These masterpieces encourage performers to play more expressively and in a reflective manner. Well-suited for students who enjoy playing literature of a more lyrical nature. Most selections are from the Romantic period, although all periods are represented.
Table of Contents:
Short Prelude in D Major, BWV 936 Composed by Johann Sebastian Bach

Sonata in D Minor Composed by Domenico Cimarosa

Sonata in E-flat Major Composed by Domenico Cimarosa

Sonata in D Minor, K. 9 Composed by Alessandro Scarlatti

Sonata in F Minor, K. 185 Composed by Alessandro Scarlatti

Mazurka in A Minor, Op. 7, No. 2 Composed by Frederic Chopin

Prelude in D-flat Major, Op. 28, No. 15 Composed by Frederic Chopin

Etude in B Minor, Op. 100, No. 6 Composed by Dorn

Improvisation, Op. 84, No. 5 Composed by Gabriel Faure

Nocture in B-flat Composed by John Field

Notturno, Op. 54, No. 4 Composed by Edvard Grieg

Buds and Blossoms, Op. 107, No. 2 Composed by Cornelius Gurlitt

Buds and Blossoms, Op. 107, No. 4 Composed by Cornelius Gurlitt

Buds and Blossoms, Op. 107, No. 7 Composed by Cornelius Gurlitt

Venetian Boat Song, Op. 19, No. 6 Composed by Felix Bartholdy Mendelssohn

Three Waltzes in A-flat Major, D. 365/5, 6 and 8 Composed by Franz Schubert

Child Falling Asleep, op. 15, No. 12 Composed by Robert Schumann

Traumerei, Op. 15, No. 7 Composed by Robert Schumann

Album Leaf Composed by Claude Debussy

La fille aux cheveux de lin (the Girl with Flaxen Hair) Composed by Claude Debussy

Prelude, Op. 31, No. 1 Composed by Reinhold Moritzovich Gliere

Romance, Op. 31, No. 7 Composed by Reinhold Moritzovich Gliere

Little Leopard on the Swing (from Children's Album, Book II) Composed by Aram Ilyich Khachaturian

Prelude Composed by Maurice Ravel

Bagatelle, op. 5, No. 4 Composed by Alexander Tcherepnin



| | |
| --- | --- |
| Catalog: | AL6671 |
| Publisher: | Alfred Publications |
| Composer: | Various |
Various Magrath 72
Manufacturer Part #:
  AL6671
---
Customer Reviews